Using your card - purchases
There are loads of ways you can use your MBNA credit card to shop, whether you prefer the high street or surfing the net.
At the shops

Chip and PIN
You're probably familiar with chip and PIN as it's been around for a while now, and is still the most widespread way of paying just about everywhere you need to physically present your card, like shops and restaurants.
If you're not sure what we're talking about, it's where you pop your credit card in a payment machine and input the 4 digit number sent to you when you opened your account.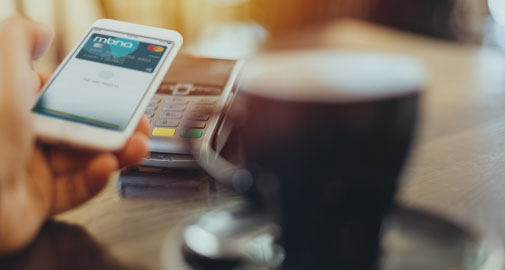 Contactless and mobile devices
All MBNA cards are contactless as standard, so you can use them wherever you see the contactless symbol. If using your smartphone or a mobile device to make payments sounds like your thing, the good news is you can add your MBNA card to your devices.
Using a card - make payments of up to £100.
As an added security step, you might be asked to enter your PIN from time to time, usually when you've made a lot of transactions in a short space of time.
Using a mobile device - some retailers set their own limits, so check with them before you pay.
Mobile device payments
Apple Pay™
Enjoy all the benefits of your MBNA credit card using Apple Pay. It's the easy, secure and private way to pay.
Google Pay™

Google Pay is the fast, simple way to pay with your MBNA credit card in stores, in apps and online.
Shopping online and over the phone
You can use the long card number, expiry date and 3-digit security code on your card to shop online and over the phone. If you don't have your card to hand, you can view your card details in the MBNA Mobile App.
It's really important you know who you're talking to when you give out your card details over the phone, so make sure you only do this with reputable companies.
Shopping abroad
Your MBNA credit card also makes a great travel pal as it can usually be used in the same way for shopping overseas as it can at home. Remember though, we usually charge a non-sterling transaction fee for transactions made with your credit card overseas. Check your account terms and conditions for more information about any overseas fees and charges.
You'll find lots of handy stuff in our guide to using your card abroad.
Making payments to your account
It's important to make your monthly payments on time. Promotional offers will no longer apply from the beginning of any statement period during which you have breached your terms and conditions, for example if you haven't paid on time or have gone over your credit limit.
Remember to check your statements for the minimum payment amount and due date. We recommend you pay more than the minimum amount when you can to reduce the time and cost of repaying your balance.
From Direct Debit payments which pretty much look after themselves, to one-off debit card payments, we offer a range of payment options to suit you.
Apple, the Apple logo, iPhone and iPad are trademarks of Apple Inc., registered in the U.S. and other countries. Apple Pay, Touch ID and Apple Watch are trademarks of Apple Inc.
Google Pay and the Google Pay logo are trademarks of Google LLC.