How to set up our MBNA Card Services App
Handy step by step guide for registering.
Register your mobile device to use our MBNA Card Services app

You'll need to do this the first time you use the app. It takes just a few steps and you'll only need to do it once and you can follow our handy step by step guide.
Step 1
Download the app from the App Store or Google Play. Then open it once it's ready.
Step 2
If you already use Online Card Services, select 'Log in'. If not, select 'Register' and follow the steps on screen.
Step 3
Then we'll ask for your username and password. Use your Online Card Services login details or the new details you set up if you registered on the app.
Step 4
Next we'll need 3 characters of your memorable information. The number above each box tells you which to enter.
Step 5
Now we'll do a quick security check to make sure it's you. Choose a number for us to call you on.
Step 6
You'll get a 4-digit code on your screen. Then we'll call you on the number you chose.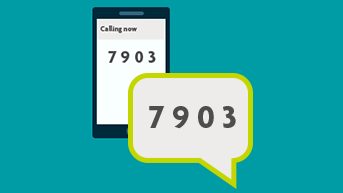 Step 7
When you answer the phone, we'll ask you to read out the code or key it in using the numbers on your phone.
All done!
That's it, you're up and running with the app.
Important legal information. We don't charge you to use our mobile services but your mobile operator may charge you for certain services (such as downloading or using the app), so please check with them. Services may be affected by phone signal and functionality. Terms and conditions apply.
Apple, the Apple logo, Touch ID and Face ID are trademarks of Apple Inc., registered in the U.S. and other countries. App Store is a service mark of Apple Inc. Android and Google Play are trademarks of Google LLC. Mobile alerts are sent throughout the day, 7 days a week including bank holidays. This is a free service for all eligible MBNA customers.