Card freezes
A quick and easy way to control your credit cards on the go, using our secure MBNA Card Services App.
Want more control over your cards?
A handy feature in our secure MBNA Card Services App lets you quickly freeze and unfreeze different types of
transaction on your credit card(s) whenever you need to.
It's really useful if you've forgotten where you put your card (but you know it's definitely not lost or been stolen) – or if
you just want to control how and where your cards can be used.
How to freeze and unfreeze transactions

Step 1
From the MBNA Card Services App, tap 'More' and choose 'Card Management'.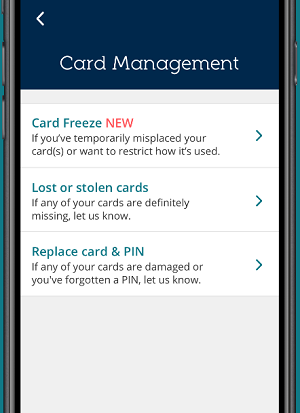 Step 3
Swipe to the card you want and toggle on or off for the different freeze options.
That's it, you're all done! The changes take effect straightaway. You can log back into the app any time to update.
What can be frozen?
You can restrict these types of transactions securely on each of your cards (including any additional cardholders' cards) with a quick toggle on or off:
Freeze card – stops most card transactions.
Freeze abroad – stops ATM withdrawals, and till and terminal transactions outside the UK.
Freeze online and remote - stops online, in-app, phone and mail order payments.
Freeze at tills and terminals - stops transactions when your card is present at the place of payment.
Freeze ATM withdrawals – stops cash machine withdrawals.
Freeze gambling –stops most gambling transactions the moment you turn it on. If you turn it off, it'll take 48 hours to remove the freeze.
Important legal information. We don't charge you to use our mobile services but your mobile operator may charge you for certain services (such as downloading or using the app), so please check with them. Services may be affected by phone signal and functionality. Terms and conditions apply. Apple, the Apple logo, Touch ID and Face ID are trademarks of Apple Inc., registered in the U.S. and other countries. App Store is a service mark of Apple Inc. Android and Google Play are trademarks of Google LLC. Mobile alerts are sent throughout the day, 7 days a week including bank holidays. This is a free service for all eligible MBNA customers.